How to Take Better Skate Photos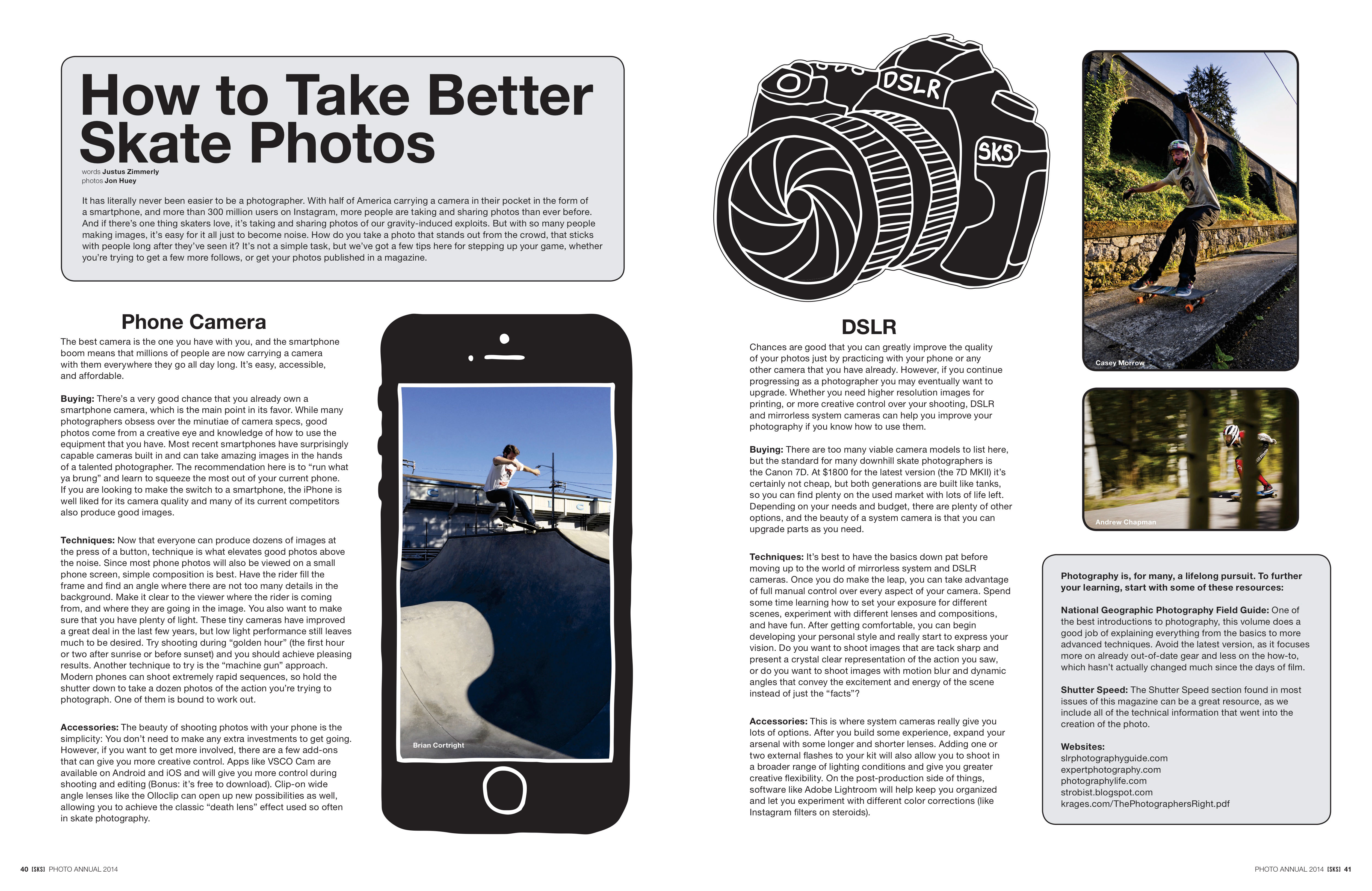 It has literally never been easier to be a photographer. With half of America carrying a camera in their pocket in the form of a smartphone, and more than 300 million users on Instagram, more people are taking and sharing photos than ever before. And if there's one thing skaters love, it's taking and sharing photos of our gravity-induced exploits. But with so many people making images, it's easy for it all just to become noise. How do you take a photo that stands out from the crowd, that sticks with people long after they've seen it? It's not a simple task, but we've got a few tips here for stepping up your game, whether you're trying to get a few more follows, or get your photos published in a magazine.
Phone cam:
The best camera is the one you have with you, and the smartphone boom means that millions of people are now carrying a camera with them everywhere they go all day long. It's easy, accessible, and affordable.
Buying:
There's a very good chance that you already own a smartphone camera, which is the main point in its favor. While many photographers obsess over the minutiae of camera specs, good photos come from a creative eye and knowledge of how to use the equipment that you have. Most recent smartphones have surprisingly capable cameras built in and can take amazing images in the hands of a talented photographer. The recommendation here is to "run what ya brung" and learn to squeeze the most out of your current phone. If you are looking to make the switch to a smartphone, the iPhone is well liked for its camera quality and many of its current competitors also produce good images.
Techniques:
Now that everyone can produce dozens of images at the press of a button, technique is what elevates good photos above the noise. Since most phone photos will also be viewed on a small phone screen, simple composition is best. Have the rider fill the frame and find an angle where there are not too many details in the background. Make it clear to the viewer where the rider is coming from, and where they are going in the image. You also want to make sure that you have plenty of light. These tiny cameras have improved a great deal in the last few years, but low light performance still leaves much to be desired. Try shooting during "golden hour" (the first hour or two after sunrise or before sunset) and you should achieve pleasing results. Another technique to try is the "machine gun" approach. Modern phones can shoot extremely rapid sequences, so hold the shutter down to take a dozen photos of the action you're trying to photograph. One of them is bound to work out.
Accessories:
The beauty of shooting photos with your phone is the simplicity: You don't need to make any extra investments to get going. However, if you want to get more involved, there are a few add-ons that can give you more creative control. Apps like VSCO Cam are available on Android and iOS and will give you more control during shooting and editing (Bonus: it's free to download). Clip-on wide angle lenses like the Olloclip can open up new possibilities as well, allowing you to achieve the classic "death lens" effect used so often in skate photography.
DSLR:
Chances are good that you can greatly improve the quality of your photos just by practicing with your phone or any other camera that you have already. However, if you continue progressing as a photographer you may eventually want to upgrade. Whether you need higher resolution images for printing, or more creative control over your shooting, DSLR and mirrorless system cameras can help you improve your photography if you know how to use them.
Buying:
There are too many viable camera models to list here, but the standard for many downhill skate photographers is the Canon 7D. At $1800 for the latest version (the 7D MKII) it's certainly not cheap, but both generations are built like tanks, so you can find plenty on the used market with lots of life left. Depending on your needs and budget, there are plenty of other options, and the beauty of a system camera is that you can upgrade parts as you need.
Techniques:
It's best to have the basics down pat before moving up to the world of mirrorless system and DSLR cameras. Once you do make the leap, you can take advantage of full manual control over every aspect of your camera. Spend some time learning how to set your exposure for different scenes, experiment with different lenses and compositions, and have fun. After getting comfortable, you can begin developing your personal style and really start to express your vision. Do you want to shoot images that are tack sharp and present a crystal clear representation of the action you saw, or do you want to shoot images with motion blur and dynamic angles that convey the excitement and energy of the scene instead of just the "facts"?
Accessories:
This is where system cameras really give you lots of options. After you build some experience, expand your arsenal with some longer and shorter lenses. Adding one or two external flashes to your kit will also allow you to shoot in a broader range of lighting conditions and give you greater creative flexibility. On the post-production side of things, software like Adobe Lightroom will help keep you organized and let you experiment with different color corrections (like Instagram filters on steroids).
Photography is, for many, a lifelong pursuit. To further your learning, start with some of these resources:
National Geographic Photography Field Guide – One of the best introductions to photography, this volume does a good job of explaining everything from the basics to more advanced techniques. Avoid the latest version, as it focuses more on already out-of-date gear and less on the how-to, which hasn't actually changed much since the days of film.
Shutter Speed: The Shutter Speed section found in most issues of this magazine can be a great resource, as we include all of the technical information that went into the creation of the photo.
Websites:
photographylife.com
krages.com/ThePhotographersRight.pdf