Dazed and Confused in Bainbridge, Ohio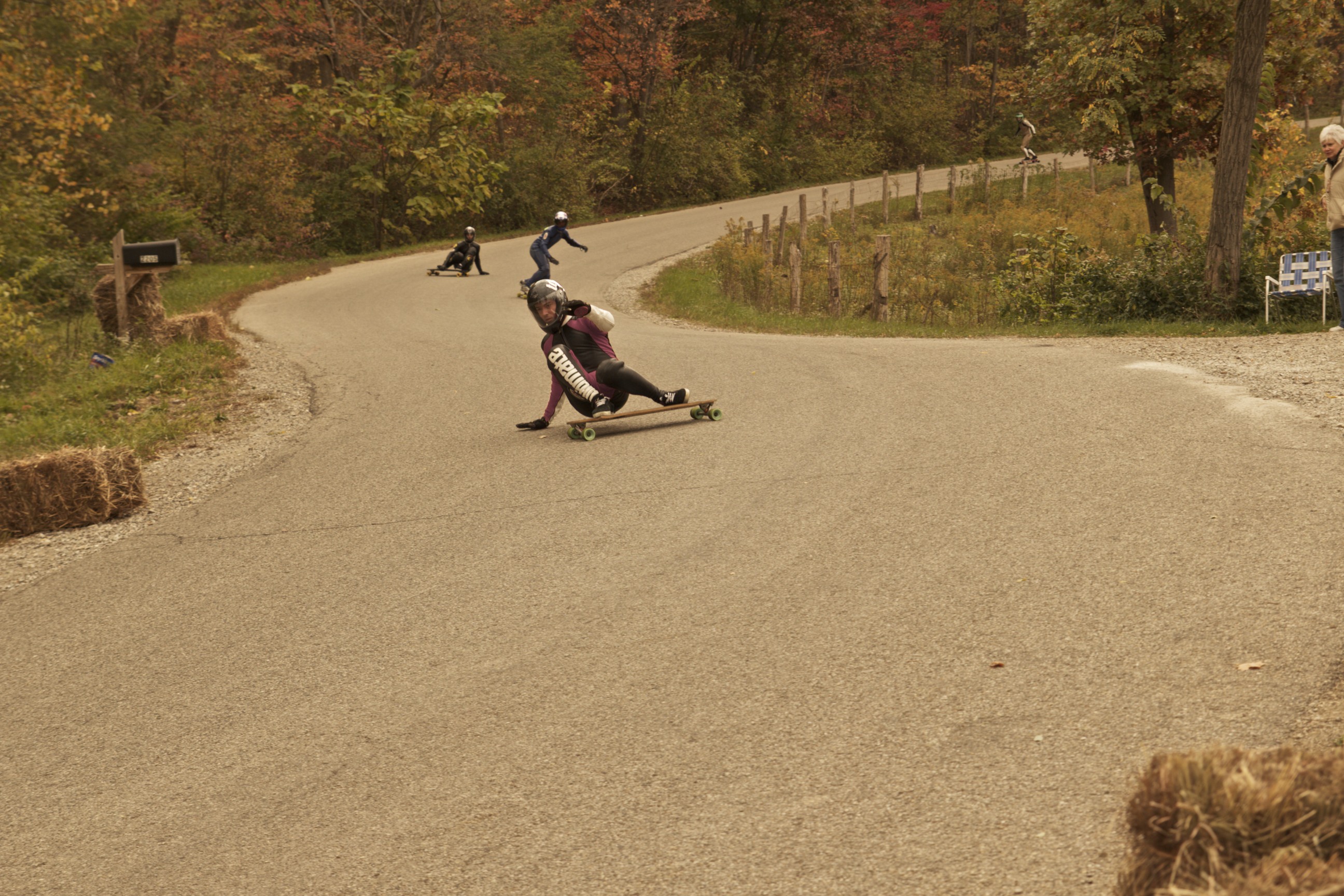 View the original post on SkateSlate.com
Confusion and temporary amnesia are both common symptoms of a concussion and Jeremy Ross was displaying both after a violent encounter with some hostile hay bales at the Soldiers of Downhill race in Bainbridge, OH last weekend. The crash was one of the more spectacular events I've witnessed. Pascal "Rookie" Jean, Cam Brickenden and Jeremy were neck and neck coming into the chicane at the fastest part of the course, traveling upwards of 50mph. Just as Jeremy made a gutsy pass on Rookie to take the lead, Rookie and Brick went down. Forced off his line, J-Raw started to wobble and stood up to correct his line. For a moment it looked like he might actually pull it off. But only for a moment.
Against a sonic backdrop of leather sliding on pavement and spectators yelling and stampeding across fallen leaves to get out of the way, the quiet thud of human flesh and bone against the wall of bales was conspicuously quiet. Visually, however, it was spectacular. I may be exaggerating it in my mind, but the explosion of hay against the horde of bystanders was like a wave crashing into a cliff. Jeremy staggered to his feet and started running. He still had a chance to win the consolation final but instead of hopping on his board, he rolled over the hay bales and collapsed onto the forest floor. I was confused. And not for the first time that weekend.
I rolled out from my home in Ontario with two partners in crime late Friday afternoon. We were all eager to go somewhere new and hoped that the rainy autumn skies wouldn't follow us as we drove south for 9 hours. After a few fast food stops and a quick search at the border to make sure we weren't having too much fun, we finally pulled into the campground in Bainbridge around 3 in the morning. Point of confusion #1: In 9 hours of driving we hadn't seen a single hill. Isn't this supposed to be one of the fastest races in the country? We chatted with a few night owls who were still hovering around the campfire and then crawled into our sleeping bags for a decent night's rest.
The next day was devoted entirely to "practice runs". In other words, a day of freeride on a super fast hill. The hill that had previously been hiding turned out to be a monster. At little more than a lane and a half wide and lined with forest for the majority of its length, there was little room for error. A quick lefthand sweeper led into a steep righthand switchback, the site of many spectacular crashes throughout the weekend. If you made it through that corner unscathed, the rest of the hill was a matter of bravery. Pavement changes, small rises, huge drops and the aforementioned chicane towards the bottom of the course made for a hairy ride. Not many riders made it through the day without tasting the hay at least once.
In between runs, many skaters took the opportunity to peruse the harvest festival that was taking place in the town. Dodging ATVs on Main St, ogling redneck families dressed in matching head-to-toe camo and consuming vast amounts of deep fried Oreos and Snickers bars ranked among the most popular activities. Half of my family consists of rednecks who live in Ohio, but I still felt some culture shock. Tents full of McDonald's belt buckles for sale sat next to tables with rifles lying about, apparently for charity auction. Still, it was a nice setting. In the heart of the Midwest, we were enjoying the autumn colours, clear skies and delicious baking of a quiet little town. After practice was done for the day, I set out with a bunch of my Canadian compatriots to find some burgers and malt-based beverages. We found a pub and walked into a room decorated with the hoods of Nascar cars and hazy from cigarette smoke. The shroud of fun and weirdness didn't leave for the rest of the night. Skaters filled the establishment, many toasts were made, locals danced on our tables, romances blossomed and withered, and things generally didn't make much sense. We left early and stumbled upon another gathering of younger town locals who were more than happy to show us a good time. It was lighthearted until a few of the locals started voicing their opinions on a variety of matters. One had gone so far as to get tattoos showing his allegiance to a nefarious political organization of yore. We were definitely at a hillbilly party and it was definitely time to leave. Back at the campsite it was a much friendlier scene, with skaters absorbed in all manner of discussion around a warm fire. It's nice to be a part of such a welcoming family.
Fast forward to race day: The sky was clear and the course was as fast as ever. The track may be located on Jester Hill, but there's really nothing funny about it. Riders were pushing even harder during the warm-up runs and the crashes were plentiful. Heats were chosen by lottery and meant that some early runs were loaded with talent. As subsequent rounds weeded out the less skilled and the less fortunate, the elimination rounds really started to heat up. Plenty of locals came up the road from the fair to watch the show and were blown away by the speeds and the wipeouts. As described previously, the consolation final was pretty hairy. Cam "Brick" Brickenden was first to cross the line, followed closely by Rookie and Dan Oliver, while Jeremy was unable to make it to the finish. Niko Desmarais was dominant all day and looked rock solid in the final. Followed closely by Californian AJ Haiby, they flew through the bottom section of the track, quite possibly the fastest times of the day. They were followed by Mike Jakubiec and William Royce.
Not long after the race was done, the wind started to howl. Tents were taken down, high fives given all around and everyone was talking about how great a weekend it had been. Even Jeremy, who couldn't remember anything from the previous 48 hours. I suffered no head trauma that weekend and I'm still a little confused as to what happened. It was a fun weekend spent with friends in a bizarre little corner of America. And I hope to do it again soon.